ACW Publishing Conference
June 11 at Heaven Hill Farm in Lake Placid, NY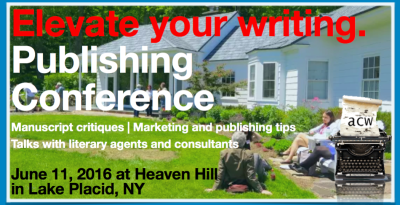 Schedule
9:00-9:30am Registration and Welcome
9:30-10:45am
Who Cares What You Write? with Jeffrey Lependorf
You've written a book, or are writing one, and you hope to publish it yourself or get it published—but who will want to seek out your book, buy it, and read it? Do you know what else your readers read, who they are, how to reach them? Jeffrey Lependorf, the shared Executive Director of America's two national nonprofit organizations serving independent literary publishing—
Small Press Distribution
and
Community of Literary Magazines and Presses
—will help you answer these questions, and more, offering his bird's eye view of the industry to help you reach your potential audience and publish effectively.
11:00am-12:15pm
How a Manuscript Becomes a Book with Melissa Flashman
Melissa Flashman will teach you how to navigate through the process of helping a manuscript become a book. Her talk will cover everything from the workshopping/writing group stage, how to target the right agents, writing a strong query letter, how to interview potential agents, finding the right match, and the stages following signing with an agent, all the way through publicity and marketing.
12:15-1:15pm Lunch (provided)
1:15-2:30pm How to Pitch Your Work with Philip Turner
You will be asked thousands of times, "what is your book about?" and "who is the reader for it?" You need to be able to answer these questions in a compelling way in sentence or two, though it is often hard to do this. Philip will lead a session on ways to answer these questions, and others publishing professionals may ask you. Participants will also be able to pitch their work this session and get feedback on it. This pitch will follow your project from the beginning stages all the way through marketing, so make sure it is a good one.
2:45-4:00pm Big Press, Small Press? Self-Express! with Renate Wildermuth
The basics of Independent Publishing explained—how to publish e-books and create print copies of manuscripts for fiction, non-fiction, memoirs, family histories, and even textbooks and illustrated children's books:
How and where to upload digital files
Costs and royalties
Creating covers
Using front-and back matter to promote your book
Marketing tips and how to grow readership
Distribution issues and getting space on real and virtual bookshelves