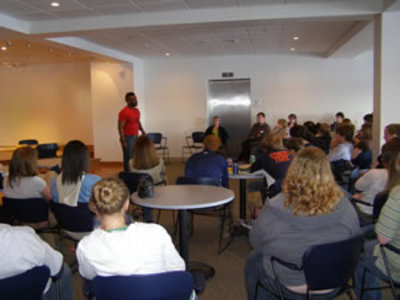 Annual Writing Conferences
ACW offers a variety of writing conferences every year. Recently we have offered programs in Children's Literature, Food Writing, First Time Novelist Bootcamp, Poetry, History, Journalism, and Memoir.
North Country High School Writing Retreat This highly successful program brings students from all over the North Country to work with acclaimed performance poets. In the first year, 2005, ACW brought together 30 students from six school districts, with Roger Bonair-Agard as the instructor. In 2006, we doubled that number and added Rachel McKibbens as an instructor, and we still had to turn away students who were interested. In 2007, we hosted 90 students with three teaching poets, the third being National Book Award finalist Patricia Smith. Each year the program grows in interest and support.
Through unique creative writing exercises, students generate poems and essays and learn to read their work to an audience. This program exposes students to diverse writing styles and backgrounds from contemporary writers. Mr. Bonair-Agard, a native of Trinidad and Tobago, often writes about Caribbean history and calypso music, and his literary heroes range from Sonia Sanchez and Pablo Neruda to Martin Espada and Amiri Baraka. Rachel McKibbens spent part of her childhood living on the streets of L.A., and is known for her ability to cut to the core of human experience with deep sensitivity. Patrick Rosal is the son of Philippino immigrants, and he often addresses growing up in New Jersey, balancing pop culture with his family history. This program is often the first time students have heard contemporary writing from Latino and African-American writers, steeped in tradition and dealing with social and political issues. It's particularly fascinating to hear how students apply what they hear to their own experiences and emotions living in the North Country. Another role of this program is to create a place where regional students with a common interest can meet and develop friendships based on a mutual love of literature.
Annual Publishing Conference ACW offers a publishing conference annually, changing the focus of the program and the venue each year. We recently presented a "Get Published!" conference at Silver Bay, bringing up senior editors from Norton and Perseus Books to meet with aspiring writers and offer critiques of their manuscripts as well as a conference of Small Presses at Blue Mountain Lake.
The Adirondack Writers' Resource Guide ACW produces the Adirondack Writers' Resource Guide which lists regional writers, editors, publishers, and local organizations that present writers' work. We've also included a list of photographers and illustrators. It is a tremendous resource that helps to unify the widespread literary community throughout the six-million-acre park.
We have revised and updated our Resource Guide as an online publicaton. You must be a member of the Adirondack Center for Writing to have a listing. Please be sure to renew (or join!). New in this edition: we now have a category for public readings/presentations so libraries, bookstores and other presenting organizations can find you more easily! Visit our Resource Guide page!
Prison Writing Workshops The Adirondack Center for Writing and the Federal Correctional Facility in Ray Brook, NY have partnered to offer a series of writing workshops for inmate students. The workshops, which began in October 2002, explore a variety of topics and genres. These sessions are led by regional writers and educators. At the conclusion of the first year of the residency, the paticipating students held a very moving and inspiring reading at the facility.
Studies have shown that reading and writing instruction to inmate populations increase empathy and introspection in the students, which in turn lowers the rate of recidivism. We believe these workshops will not only inspire and educate the prisoners who attend the classes, but prove just as enlightening and gratifying to the writers who teach them.
The Storytelling Festival ACW is proud to help the Old Forge Public Library present its annualAdirondack Storytelling Festival on at McCauley Mountain in Old Forge. This day-long festival features traditional Adirondack storytellers and crafters. Go to the Old Forge Library web sitefor more information.
Writing Workshops and Readings The Adirondack Center for Writing hosts a series of workshops designed to provide writers with creative and technical skills and professional knowledge of publishing and marketing issues. ACW also holds readings to inspire writers and create opportunities for regional writers to meet. In addition, Paul Smith's College helps us sponsor an annual reading/lecture featuring a nationally acclaimed author. In 2007, we hosted both Alistair MacLeod and Terry Tempest Williams, and in 2009 novelist and memoirist Rick Moody gave the Visiting Author Reading, and Pulitzer Prize winner Steven Millhauser. We also featured a performance poetry night with three of the best spoken-word poets in the country. Check our events page to see when our next workshop or event will be.
Young & Adult Writers' Awards ACW, in partnership with North Country Public Radio, sponsors a biennial Writing Contest for young and adult writers. To encourage different kinds of writing, we change the genres each time the contest is offered. Submissions are divided into two age groups: 12-20 and 21 plus for each genre. Contact ACW for more information and submission guidelines.
Adirondack Literary Awards
In 2006, ACW established the Adirondack Literary Awards, a juried awards program honoring books published in or about the Adirondacks during the previous year. Submissions must be from authors who live in the Adirondacks or who write about the Adirondacks. See ourNewsletter page for a re-cap of the most recent contest.
ACW Newsletter ACW publishes a quarterly newsletter, mailed to members, that highlights literary and cultural activities held throughout the Adirondack Park. As on our website home page, we feature a regional writer in every issue in our "Writers' Spotlight."
E-Mail Updates ACW is now sending out brief e-updates on events & workshops. To join our mailing list (we promise not to clog up your inbox or share your address), please e-mail us atsubscribe@adirondackcenterforwriting.org