Anne LaBastille Memorial Residency Applications
Open April 15 - May 20, 2016
* All applicants will be notified of decision on July 15, 2016


Prep Your Application:
1. Cover Letter-include a brief bio and a work plan for the residency
2. Writing Sample-up to 10 pages of written manuscript for all genres
3. (2) References-OPTIONAL
4. $25.00 application fee
- How does ACW define living in the Adirondacks? We consider the lines of the Adirondack Park to be blurred. Anyone living in the North Country region of New York state should apply under the "Adirondack Region" application.
- I'm not from the Adirondack Region. Can I still apply? Absolutely. We have spaces for writers who live in the region and all over the country.

- Do I choose the Adirondack Region or Out of Town option in my category? Are you an Adirondack Resident? If you live at least part time in the Adirondacks, please fill out the "Adirondack Region" version of your application. If you don't live in the Adirondack Region, please choose the "Out of Town" version.

- My name is somewhere in my submission. Isn't that okay? No. Please remove your name from the title, header and footer, or anywhere else it shows up. We try to have an entirely unbiased selection process. If you leave your name on your submission, we will not consider it.

- How many pieces can I submit? You can submit in multiple categories, but only one submission per category.
-
How many pages should I include in my portfolio?
If you are submitting in the poetry category, we accept submissions of 10 poems, not to exceed 10 pages. In all other categories, we accept up to 10 pages of written work. We recommend submitting at least 5 pages to allow the judges to properly engage your work.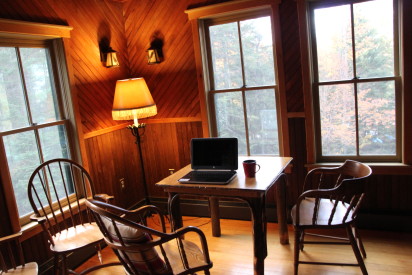 Annual Anne LaBastille Memorial Residency Program
Hosted by the Adirondack Center for Writing
The Adirondack Center for Writing will host the residency at Twitchell Lake from October 8-22, 2016.
The point of this residency is to provide space, time and an inspiring landscape for regional and outside writers to work on their writing projects, a chance to unplug and connect with other writers, and to tap into their creative self. To that end, there will be no internet or cellphones at the residency, which is housed at this beautiful property on Twitchell Lake. Rooms are single occupancy with private baths, food will be provided.
There is space for six writers, half of the spaces will be reserved for regional authors, and the other spaces will be open to writers from all over the world. We accept writers in any genre. Quality of written submissions will be our primary consideration when accepting applications. We're more interested in your writing than your MFA or publications. Send us good writing!
This residency was generously provided by the estate of
Anne LaBastille
, who wrote books like
Woodswoman
and
Beyond Black Bear Lake
from her cabin on Twitchell Lake. During the residency, the writers will paddle to the site of her property, and explore the lake with locals.
For more info on the applying, please visit our FAQ page.